Car Servicing in High Wycombe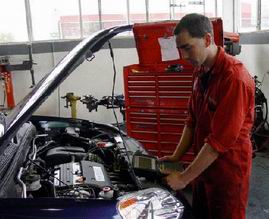 We pride ourselves on caring for our customers as well as their cars. We provide a comprehensive range of regular car services for all makes and models to meet all your mechanical needs. Most cars need servicing every 10,000 miles or annually, which ever comes first.
In addition to this, there are different engine parts items that have to be looked at specified intervals. For example, anti-freeze and brake fluid should be changed every 2 years whilst camshaft timing belts need to be replaced usually between 40,000 and 60,000 miles. We use genuine parts. Your warranty is not affected.
A full service will also pick up other faults/wear & tear that may cause expensive problems in the future.
If there are any items that need attention right away, that are not serviced related items, we will quote them for you and let you decide when to get them done. For example ABS, windows not working, rattles and squeaks, etc.
When you book your car for a service, we will pick up your vehicle from work or home and give you a courtesy car to use while the servicing is being carried out.